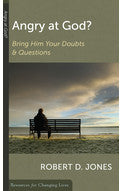 Angry at God? - Bring Him Your Doubts and Questions (Booklet)
---
by Robert D. Jones
"Resources for Changing Lives" Series
Please note that the scripture references may not all be from the King James Bible, however, the booklets are packed full of good counsel in addressing the many different issues they cover.
How could God allow this to happen to me? I'm angry with him, but I don't know if I'm "supposed" to be angry!
Is it ok to be angry with God? If we are angry, should we hold it inside, or voice our feelings outright?
Jones writes that we should not take a "grin and bear it" approach to our anger, nor should we rashly vent our emotions to God. Instead, we need to humbly bring him our struggles, doubts, and questions. We must learn to be transparent in God's presence, think biblically, and act obediently.
32 page booklet
ISBN 9780875526911
SKU:
---
Share this Product
---
More from this collection