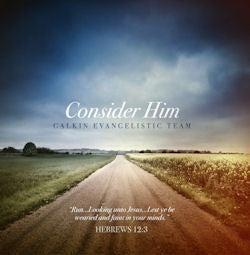 ---
By Galkin Evangelistic Ministries
The journey to Heaven can seem long and difficult. Temptations distract and trials hurt. The constant pull of the world's allurements drain our Christ-ward affections. The afflictions of life cause us to question the value of living for eternity. For the weary pilgrim, the exhortation is timely "Consider Him."
Consider Hebrews 12. Consider that Christ experienced the contrary motion of sinners against Himself. Consider that Christ went before us and is an example of joyful endurance in suffering. Consider that Christ is now seated at the right hand of God. Consider that you have not resisted unto blood. Consider that God's grace is sufficient. Consider that God loves His children and will make sure that all of His own make it safely home.
Consider Him . . . Lest ye be wearied and faint in your minds.
Song List:
You Never Change
More and More Like You
Crown of Life
Does Jesus Care
Consider Him
I Surrender All
He is Jesus
Jesus Draw Me Ever Nearer
Come Ye Sinners Poor and Needy
What a Savior
Sweet Rivers of Mercy
He Looked Beyond My Fault
There is a Higher Throne
SKU:
---
Share this Product
---
More from this collection