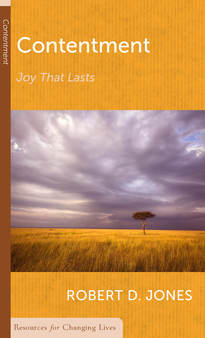 Contentment - Joy That Lasts (Booklet)
---
By Robert D. Jones
"Resources for Changing Lives" Series
Are you in financial trouble or a dead-end job? Single and wishing you were married? Married and wishing it was better? Longing for more security? When life gets tough, contentment is hard to find.
Contentment isn't found, however—it's learned, argues biblical counselor Robert Jones. In this pocket-sized exposition and application of Philippians 4:11–13, Jones draws parallels between the reader's life and the various forms of hardship that the apostle Paul faced. Amid these, we too can experience what Paul experienced: inner satisfaction, peace, and confidence in God's ability to care and provide. 
Quick fixes fail, but Jones shows how, through the gospel, we can learn God-centered contentment each day.
SKU:
---
Share this Product
---
More from this collection