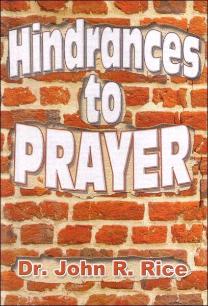 ---
By John R. Rice
A booklet on finding and removing hindrances to prayer in our lives.
Contents
1. Introduction
2. Wrong Relationship of Wives to Husbands and of Husbands to Wives Hinders Prayer
3. Prayers Blocked by Wrongs Unrighted, Debts Unpaid, Offended Brothers Unreconciled
4. Unforgiveness Grieves God and Hinders Prayers
5. Covetousness Puts One Under a Curse, Hinders Prayer
6. Self-Will, Rebellion, Disobedience Hinder Prayer
7. A Disinclination or Indifference Toward the Bible Makes Prayer an Abomination to God!
8. Any Unconfessed, Unlamented, Unrepented Sin, Grieves God and Hinders the Prayers of His Children
9. How to Get the Hindrances Removed!
Paperback; 32 pages
ISBN 0873983564
SKU:
---
Share this Product
---
More from this collection