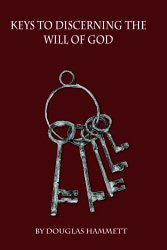 Keys to Discerning the Will of God
---
by Douglas Hammett
In this book, Pastor Hammett argues that God DOES have will for our lives and He has not left us without direction. Satan desires to derail our lives. His plan is to confuse us in the area of knowing God's will. The keys to unlocking the plan of God are laid out in the Scripture, and unfolded in this book.
Keys such as
Trust the God of the plan
Aviod Diabolical Deception
Obey the Clear, Revealed Will of God
Go Forward in Faith
Use the Sound Mind Principle
The keys, when properly used, will unlock the will of God for your life. Take the first step into the will of God for the rest of your life.
SKU:
---
Share this Product
---
More from this collection