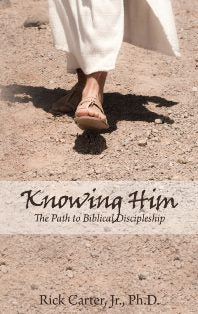 Knowing Him (Discipleship Course)
---
By Pastor Rick Carter
Far too often in churches today, discipleship is either non-existent, severely lacking, or to the opposite extreme has been made the primary focus trumping out evangelism and outreach.  Jesus included the ministry of discipleship as a vital part of a church's work in fulfilling the great commission.
The Knowing Him discipleship training curriculum is structured in such a way as to take a person from no knowledge of salvation, through begin grounded in the fundamental doctrine of the Word of God, to a working servanthood in which the convert is actively winning others to Christ and investing themselves in discipling new converts they have won.
This course is predicated on a daily study through the Word of God and a weekly meeting at which the teacher expounds the information the disciple has studied in the previous week.  By using this curriculum we can see the beauty of the great commission fulfilled in our churches as the masses are won to Christ, taught to observe His teachings, and winning others as well.
SKU:
---
Share this Product
---
More from this collection