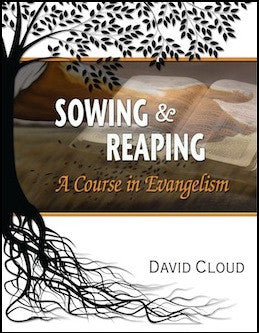 Sowing & Reaping: A Course in Evangelism
---
by David Cloud
This new course (for 2012) is unique in several ways. It is unique in its approach. While it is practical and down-to-earth, it does not present a formulaic approach to soul winning, recognizing that individuals have to be dealt with as individuals. The course does not include any sort of psychological manipulation techniques. It does not neglect repentance in soul winning, carefully explaining the biblical definition of repentance and the place of repentance in personal evangelism. It explains how to use the law of God to plow the soil of the human heart so that the gospel can find good ground. The course is unique in its objective. The objective of biblical soul winning is not to get people to "pray a sinner's prayer"; the objective is to see people soundly converted to Christ. This course trains the soul winner to pursue genuine conversions as opposed to mere "decisions." The course is also unique in its breadth. It covers a wide variety of situations, including how to deal with Hindus and with skeptics and how to use apologetics or evidences in evangelism. There is a memory course consisting of 111 select verses and links to a large number of resources that can be used in evangelism, many of them free.
The course is suitable for teens and adults and for use in Sunday School, Youth Ministries, Preaching, and private study.
OUTLINE: The Message of Evangelism, Repentance and Evangelism, God's Law and Evangelism, The Reason for Evangelism, The Authority for Evangelism, The Power for Evangelism, The Attitude in Evangelism, The Technique of Evangelism, Using Tracts in Evangelism, Dealing with Skeptics.
8 1/2 x 11 Spiral Bound; 104 pages
ISBN 978-1-58318-169-0
SKU:
---
Share this Product
---
More from this collection