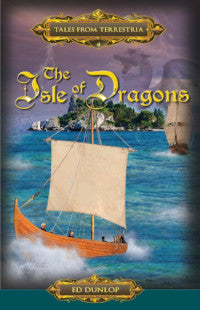 The Isle of Dragons (Book 4)
---
By Ed Dunlop
Book 4 in Kingdom Tales from Terrestria
The Dragon Tournament—a mysterious event that draws young people by the thousands. Admission is free, but what price do the participants really pay?
When sixteen-year-old Joel of Seawell, the son of a peasant fisherman, receives an invitation to the Tournament he is thrilled beyond words. Too late he learns the terrifying secret of the Isle of Dragons.
Captive in a hostile land, Joel gives up all hope, certain he will never again see his home or experience the happy life he once knew.
For Ages 10 and up
Paperback; 200 pages
SKU:
---
Share this Product
---
More from this collection