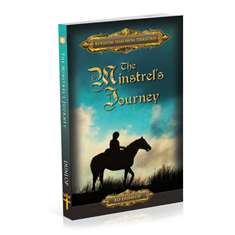 The Minstrel's Journey (Book 7)
---
By Ed Dunlop
Book 7 of Kingdom Tales from Terrestria
During a raid on Calverton Castle, Lord Raleigh's own brother, Raymond, deliberately kills him with a well-aimed arrow. Knowing that Bradyn, his fifteen-year-old nephew, is the only witness to his treacherous deed, Raymond takes drastic steps to silence him.
Life is unbearable for Bradyn until the lord of a neighboring castle has pity on him and finds a way to end his suffering. Harboring hatred and bitterness toward his uncle, Bradyn makes deadly plans to get revenge.
When an aging minstrel takes Bradyn under his wing and teaches him to play the lute, Bradyn finds his calling in life and begins to travel as an itinerant minstrel. An overnight sensation, the young minstrel realizes he must choose between entertaining the wealthy lords and ladies of the kingdom or ministering to the poor mountain people of the region of Cappalachia.
In the end, the young minstrel must deal with the pride, hatred and bitterness in his own heart in order to serve King Emmanuel.
Travel back to the days of noble knights and powerful warlords… daring quests and deadly dragons… the days of honor and valor and chivalry. 
SKU:
---
Share this Product
---
More from this collection