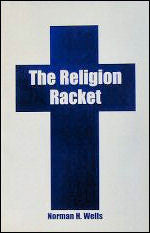 ---
By Norman Wells
The author states, "Religion is a failure. In every aspect of life where religion is supposed to be an influence, it is being defeated. This failure is obvious but the amazing truth is that no one seems to be willing to acknowledge that it is happening.
Real religion is buried under the maze of contradicting claims, tired traditions, and deliberate deceits. It is time to bring today's religion out into the light for a full investigation of its reality, not its pretense."
Chapters Include...
Jesus Christ Verses Religion
Habitual Hypocrisy
United We Fall
Spoiled Saints
The Cupid Cult
Phony Promise
A Virtue Vault
Cures that Kill
...and many more!
Paperback; 107 pages
ISBN 978-0-9792562-1-9
SKU:
---
Share this Product
---
More from this collection