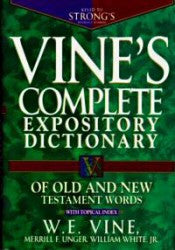 Vine's Complete Expository Dictionary of Old and New Testament Words
---
by W.E. Vine
The most affordable complete edition of Vine's famous Old and New Testament dictionaries available, this super value edition of a classic study resource helps those with limited or no background in Hebrew or Greek to study the meaning of biblical words in the original languages. A great resource for students, pastors, and anyone who enjoys biblical word studies. Serves as a dictionary, commentary, and concordance.
For students who are just starting Bible studies, Vine's Complete Expository Dictionary should be the next book on your list to get after Strong's Concordance and a good Bible Dictionary. Vines enables you to dig deeper into the meanings of important or unfamiliar words and concepts in the Bible, with explanations in clear, modern English.
About the Author:
W. E. Vine, M.A. (1873-1949) was known as a classical scholar, a skilled expositor, and an acute theologian. Recognized as one of the world's foremost Greek scholars, his Expository Dictionary of New Testament Words, first published in 1939, represents the fruit of his lifetime labors and is an unsurpassed classic in its field.
Hardback; 820 pages
ISBN 9780785260202
SKU:
---
Share this Product
---
More from this collection